Fieldstown Farm at Bloom 2014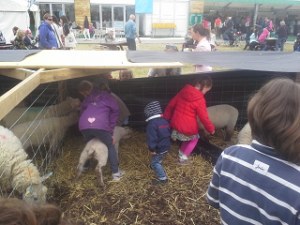 At Bloom 2014  – Feeding the lambs
Five days filled with sunshine, fabulous gardens, happy people and great food. Our pet lambs Countess Markievicz, Brian Boru and Michael Collins came with us and enjoyed all the attention and the bottles of milk.   Four of our ewes were shorn each day and a great crowd gathered to see the experts at work.   The whole flock have since been shorn too.
Back home on the farm, our first batch of lambs available to customers will be selected in the next week or so and we have quite a number of orders to fill.  The mint is plentiful, so on with the  work of making the Apple and Mint Jelly!
The winner of the draw at Bloom is David Forde, Dublin, , so the Forde  household  can look forward to having plenty of lamb for those summer months to enjoy with family and friends.
The partridge are doing well, plenty of nests around, so hopefully lots of young partridge to joint the flock.
Come and visit us at our stand at the Flavours of Fingal Show in Newbridge House on 28th and 29th June.
Meantime, if you would like to order some lamb, we are taking orders now for early July.
From
Padraic  Brid & Lorcan